Telegraphone


Project: Radio Gaga, ITP
Role: Developer
Tools: Adruino, Telegraph Key
Date: 03/2016- 05/2016




B A C K G R O U N D

Telecommunication

Telegraph has disappeared from telecommunication industry for so long that it sometimes only exist in "spy movies". It's even kind of surprising to see this "old-fashioned" world-standard communication method had been replaced by telephone for almost 60 years. Thanks to a course in ITP called "Radio Gaga", taught by Surya Mattu, which raised my interest about this telegraphy tool.

Problem

However, in terms of communication, even the methods changed, the feeling of sending and receiving messages could be the same, or even more interesting if communication could exist through different ages.

Concept

My idea is to give this "old" guy some "new friends" to keep in touch with, the smart phones, through sending SMS in between, to test how people feel and bring back the experience when even typing a single word with a high error rate for modern people.









P R O C E S S

Morse Code

First in order to transfer morse code into letters, I did the time internal encoding and decoding (credit to github morse code related codes). And made the specific morse code for Arduino Fona.
Components

The most important factor that made this project working is the find of Arduino Fona, which contains the functions as a mobile phone. You can inset one SIM card into it, adding the Antena and Lipos to make it working as a phone. Then I fabricated the components together to test and record the video.
ITP Winter Show

I showed this project at ITP spring show 2016, which helped me get a lot of feedbacks and wonderful thoughts and some interesting attempts.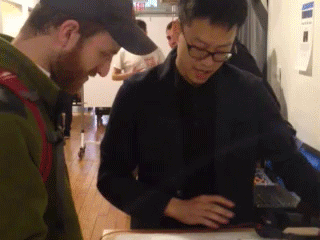 All Copyrights Reserved