Design for Seniors
User Research Project for Better Seniors Tech Engaging

Project Overview
Technology has provided tremendous advantages for today's seniors: programmable medication management systems, emergency alert devices with GPS, and senior-friendly communication devices (computers and cell phones). However, it has also expanded the gap, between those who are 'keeping up with progress' and those who are not really prefer to live in that way. Many seniors find themselves on the other side of the digital divide. As students, we are divided into groups to design something for seniors.

Role: Designer, Researcher
Methods: Interviews, User Testing, Prototype


Challenges


First, we did brain storming about the our designing targets. Try to "predict" what seniors need in a "newly technology world". We decided to focus on the question:
How to improve seniors' social engagement by helping them overcome technical barrier?"



In order to find out, we did some user interviews trying to understand what their daily lives are.




Then by collecting and organizing these information, we tried to summarize some points.
- Hobbies can be motivation for them to learn technology/ recreational activities is a good reason to gather them together.
- Younger generation is their connection with technology.
- Instead of making new friends, they tend to maintain a few old friends that are really close.
- Seniors don't feel they need better digital device/service until they have used them.
- They tend to learn technology from people they trust (like family).

And the most important thing we found is the scenario that many seniors may have interaction, is a community called senior centre, where many seniors will talk and live together. And based on the findings, we want to design a solution for seniors to interact through walking as their most hobbies when they are in senior centre.

A wristband worn by seniors to encourage them socialize with different people while they are walking.




Then in order to test this idea, we made some prototypes to ask their feelings. Process is using foam to design the shape of product to offer senior users a easier way to wear wearables.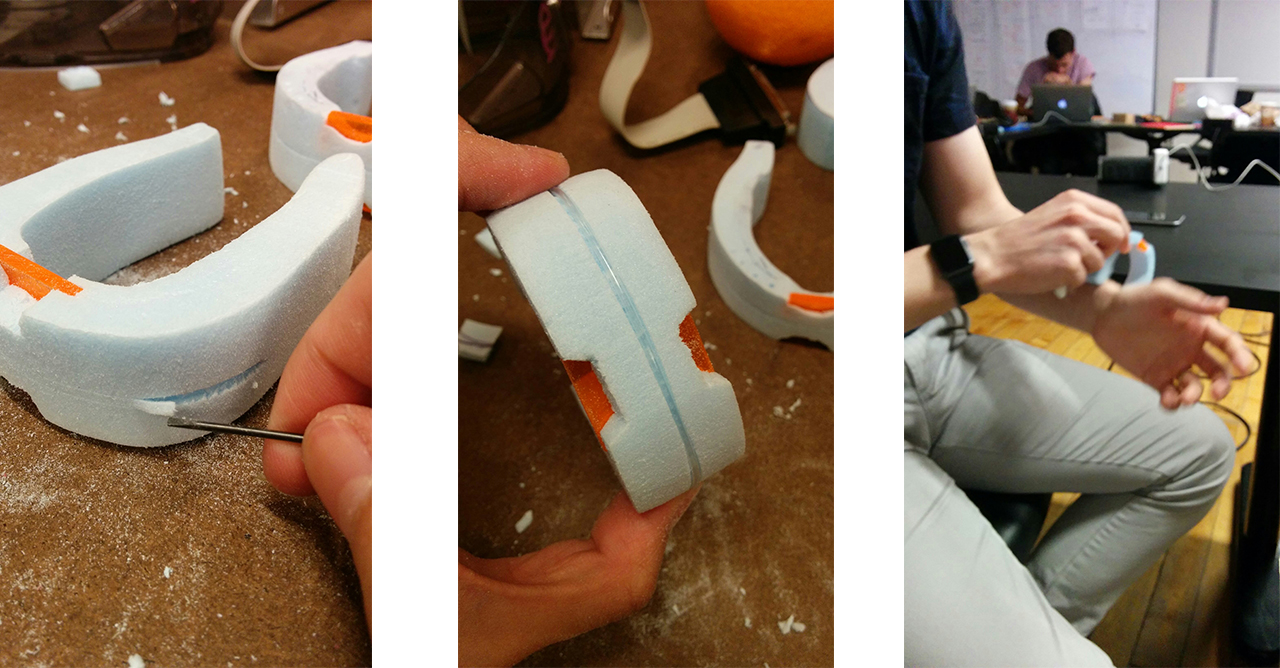 The next thing is we went to the seniors center, which is a place many seniors live and hang out together. In order to ask their thoughts, we collected some feedbacks from them